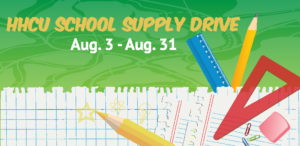 Every child deserves an education. Help us give them the tools for their road to success.
From August 3rd to the 31st, Houston Highway Credit Union is looking for your assistance in collecting school supplies for local Houston area schools for the 2016-2017 academic school year. This is a great way to give back to the community we serve and give those who might not have the resources to cover the cost of school supplies for their children. Your generous contributions will be very much appreciated!
Some suggested donations that have been given in the past are: paper, pencils/pens, tablets/composition books, binders, backpacks, colors/map pencils, construction paper, glue, crayon boxes, rulers, scissors, markers, highlighters, folders and many other items that are equally essential.
Where can you drop off these awesome supplies?!?
School supplies can be dropped off in the branch lobby, Monday through Saturday, during our operating hours. We have a designated box just for your amazing donations!
If you need more information or have any questions regarding this event, please contact:
Jacky Tamez
(713)864-4438 x 132
jacky@houstonhighwaycu.com
Thank you for all your support!