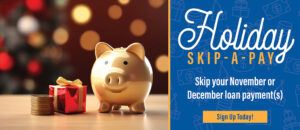 Need some extra cash for the holidays? With HHCU's Skip-A-Pay Program, you can skip your November OR December loan payment(s) to free up some cash for holiday spending.
Most loans are available to be skipped!
Auto – Motorcycle – RV – Personal Loans
Skip-A-Pay - Fall 2023
We're offering Skip-A-Pays during the months of November OR December. You can skip your HHCU loan payments for a fee of $30 per loan, per month. You can skip one monthly payment per loan each calendar year. Then apply all that extra cash towards a holiday to remember!
Subject to credit qualifications. Loan must be less than 10 days delinquent, and have been open a minimum of 6 months. Cost is $30 per loan skipped. Borrower must be at least 18 to skip a payment. Loan Types excluded: Mortgages, home equities, credit cards, lines of credit and CD secured loans. Continue paying your loan(s) until you receive confirmation your skip request has been approved. Subject to change at any time.